Elephant 'set out to kill' keeper
March 12, 2002
by Nigel Rosser
A four-tonne Burmese elephant held down her keeper at London Zoo and deliberately crushed his skull with her foot, an inquest heard today.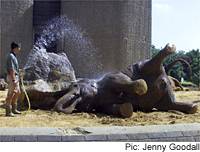 Impending tragedy: Jim Robson hoses down the elephant that was to kill him

In front of dozens of shocked visitors, the 20-year-old female elephant pushed over keeper James Robson, then wrapped her trunk around his legs to hold him down before stamping on his head.
As Mr Robson screamed for help, two other elephants tried to save him from Mya, Westminster Coroner's court was told.
But 45-year-old Mr Robson - a zookeeper for 26 years who virtually lived with the animals - was pronounced dead two hours later with massive head injuries.
Experts later said Mya may have picked on him because she had recognised his "introverted nature" and turned savage.
Unmarried Mr Robson, of Hampstead, had been playing with Mya and two other female Indian elephants, Geetha and Azizah, on in their Regent's Park enclosure on 20 October last year.
American Jerry Finley told the court Mr Robson was conducting a show involving the elephants moving enormous logs round their paddock at the time of the attack.
He said: "I picked up my son so he could watch what was going on. But then the elephant wrapped his trunk against the guy's legs and pushed him to the ground. The keeper started screaming for help.
"I made my son turn round so that he could not see what was happening. The elephant held the keeper down on the ground and then he stamped on his head ... I believe it was an attempt to kill the man. Its actions were continuous, it never stopped attacking once it started."
Mr Finley added: "The other elephants tried positioning themselves between the attacking elephant and the man."
During the inquest executives at London Zoo - which nearly went bankrupt in 1990 - denied cost-cutting measures had led to Mr Robson's death. Head keeper Brian Harman said: "It is preferable to have two handlers, but Jim and I had been around the elephants for such a long time that we got by on our own.
"The problem was getting trained elephant handlers. I didn't ever think that one of those elephants would turn round and kill one of us." Mr Harman said he had handpicked Mya 13 years ago from a herd in Burma and had always regarded her as the least aggressive of the three.
Coroner Dr Paul Knapman said: "It has been said that cost-cutting may have played a part in a shortage of handlers and lack of safety at the zoo." Zoo manager Bill James replied: "I would say that was very incorrect. There was never any suggestion that we would not try to recruit trained keepers. We tried very hard and we did recruit some, but they did not stay long because of the financial pressures caused by living in London."
Before Mr Robson's death, plans were already in place to move the animals to Whipsnade Wild Animal Park after the zoo received the go-ahead to enlarge the enclosure at Regents Park. They are still there and have caused no further problems.
The coroner recorded a verdict of accidental death.
© Associated Newspapers Ltd., 12 March 2002
---
---
BACK to Animal Attack Files Index
Tell a Friend about the Animal Attack Files