Pit bull mix attacked three people
By Norman Miller
Tuesday, June 18, 2002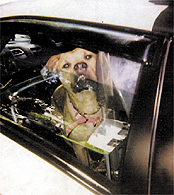 WESTON - A pit bull mix attacked three people at a Boston Post Road home yesterday, one of whom required emergency surgery, Weston Police said.
Later, the same 1-year-old dog led Natick Police and a Framingham Animal Control officer on a foot chase on Speen Street for several hours.
According to Weston Police, the dog attacked a real estate agent, her 2-year-old son, and a resident of the 809 Boston Post Road rooming house the Realtor planned to show to a potential buyer at 9:58 a.m.
The real estate agent, Lisa Helfant of Island Avenue, Spruce Head, Maine, was bitten repeatedly on her stomach and her right forearm. An unnamed source said Helfant is 4-months-pregnant. The source said the baby appears to be OK.
Helfant was taken by ambulance to Newton-Wellesley Hospital and underwent surgery. A hospital spokesman listed her in satisfactory condition last night.
Helfant's son, Tucker, was scratched and suffered several bruises and abrasions, police said.
Raymond Powell, who lives at 809 Boston Post Road, was bitten on his wrist, police said.
Both Tucker, Helfant and Powell were treated and released from Newton-Wellesley.
"The attack only lasted a few seconds," said Weston Police Officer Bob Millen. "Powell was able to get the dog to break its grip on the woman by punching it in the side of the head."
Another resident of the home brought the dog, which is named Tyson, inside. Weston Police then took control of Tyson, who weighs 60 to 70 pounds.
It is unclear what preceded the attack. Police have not had a chance to interview Helfant, Millen said.
"It was surmised that she went there to show the house, and the dog was outside when it attacked," he said.
A Weston Police officer transported the pit bull to the Natick Animal Clinic on Speen Street, but then there was more trouble, Millen said.
"He was fine when he was in the car," said Millen. "When they got there (the animal clinic), I guess he didn't want to be there."
The rope that held the dog came undone, and Tyson escaped at about 11 a.m.
For more than three hours, officers tried to corral him. They caught Tyson after he was hit by a car. Natick Police Lt. Nick Mabardy said the dog was stunned, but otherwise uninjured.
"It was just running loose," Mabardy said. "With the history we had, the dog had to be captured. They (animal clinic employees) say it's all right."
The owner of the dog is believed to be David Connolly of Weston, who also lives at 809 Boston Post Road. He could not be reached for comment last night.
There have been no problems reported with the dog, Millen said.
"We didn't even know it existed," Millen said. "I think it's a relatively new dog."
Helfant is an agent with Coldwell Banker Hunneman of Wayland. An employee with Coldwell Banker cited company policy when she declined to comment about the attack.
Tyson will remain in quarantine for 10 days to check for rabies, Millen said.
It is believed, Millen said, that the dog is up to date on its shots.
"After that, there will be a hearing to determine the dog's life expectancy," Millen said.
© Copyright by the MetroWest Daily News and Herald Interactive Advertising Systems, Inc.
BACK to Animal Attack Files Index
Tell a Friend about the Animal Attack Files