March 26, 2002

LIHUE, Kauai, Hawaii -- The 17-year-old Kauai boy, who survived a shark attack but lost a foot, described the terrifying experience.
The attack happened at Brennecke Beach in the Poipu area of Kauai where the beach is still closed because of shark sightings.
Hoku Aki told the story of survival from his hospital bed.
"I opened my eyes and I could see the shark. It was just tossing me all over the place. I remember hearing, I thought I heard my leg break. I heard the bones snap," Aki said.
One day after a vicious shark attack that tore off his foot, the Kauai High School senior was feeling well enough to show off his musical talents by playing his ukulele as he recovered at Wilcox Medical Center.
"I remember I tried to open the mouth and tried to get it off of me. That didn't work either," he said. "I just grabbed the shark's eye and ripped it out and then it let me go."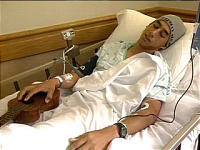 Aki said he thought he was going to die, but found the strength to make it to shore.
"I had a look at it at my leg and I just noticed the skin was all torn up and all my flesh was just torn up. I didn't really notice my foot was gone until I was in the ambulance," he said.
A vacationing family saw Aki just after the attack.
"I saw a pool of blood and the boy yelled help and there were other people on the beach and I saw they were getting up and walking towards him," Mona Schantz said.
Aki said he wasn't aware of how bad his injuries were.
"I was with my brother at the time and he told me that my foot wasn't there and I was just in shock. I couldn't believe it. I still can't believe it," Aki said.
Schantz ran for help while a vacationing nurse pulled Aki to shore and stopped the bleeding from his leg. The nurse has returned to the Mainland but Aki had a message for her.
"I'd like to thank the nurse that was at the beach yesterday. She saved my life," Aki said.
Family members said Aki should be out of the hospital in 10 days. Doctors want him up and walking around as soon as possible.
Aki is a high school track athlete, fire-knife dancer besides being a bodyboarder. Despite the loss of his foot, he remains upbeat.
He said he doesn't plan on fire-knife dancing anytime soon and he doesn't plan to go back into the water.
"I'll just sit on the beach and watch the waves or something," Aki said.
He hopes to work on his music.
Brennecke Beach remained closed Tuesday because of shark sightings. Lifeguards will decide Tuesday morning if it's safe to re-open the beach.
State officials said it appears that a tiger shark attacked Aki.
Copyright 2002 by TheHawaiiChannel.com